Every business has recurring operating expenses that come up every month. The rent or lease payment on your building, your utilities or even payroll would be good examples. Rather than manually posting the amount each month, you can schedule a monthly Journal Entry to post your rent payment and set a reminder to complete the posting.
Create the Recurring Posting
In the main menu, go to Modules > Financials > Recurring Postings.
Enter a name in the Code field.
Enter a description in the Description field.
Optionally, you can enter your contract number in the Ref. 1 field.
In the G/L Acct/BP Code field in the grid, select the applicable bank account.
In the Credit field on the same row, enter the monthly amount.
On the next row, put your cursor in the G/L Acct/BP Code field and hit Ctrl+Tab on your keyboard to pull up a list of Business Partners.
Select the applicable Business Partner.
On the same row, click in the Debit field. The amount will automatically populate to match the Credit on the row above.
At the bottom of the screen, use the drop-down options to select the appropriate Frequency.
Optionally, you can check the Valid Until box, then select a date when the recurring posting will expire.
Click Add.
Complete the Journal Posting
When you login to SAP Business One, you'll see the Confirmation of Recurring Postings window, with a reminder to complete the postings to be executed that day. From this screen, you have two options.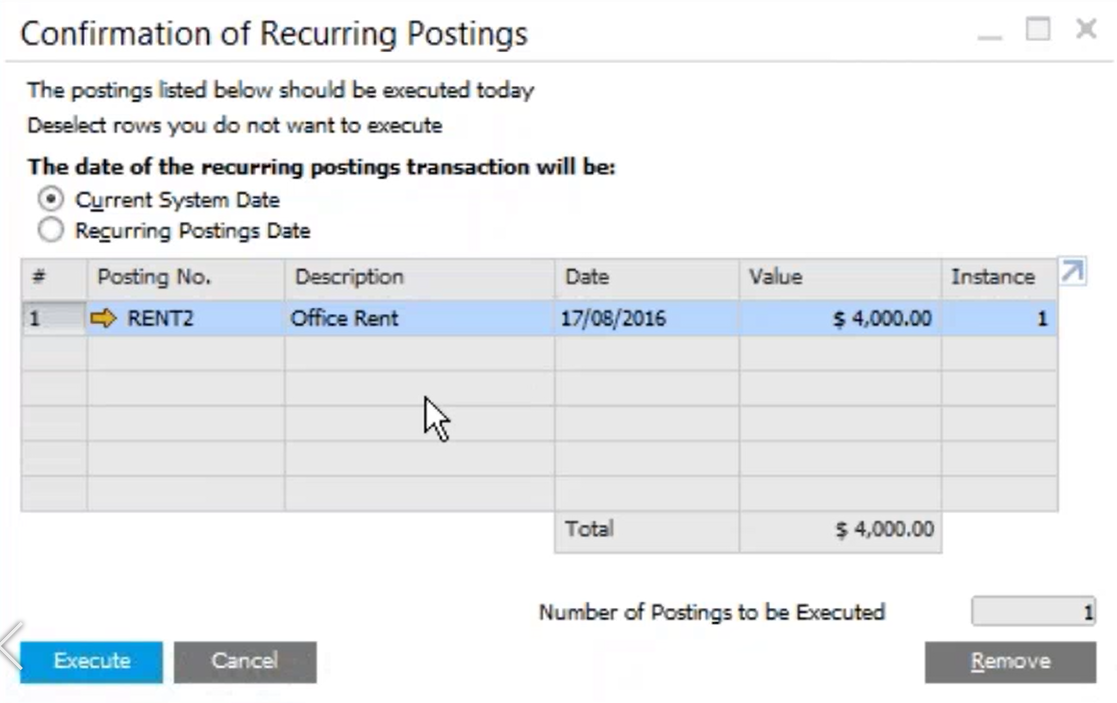 Execute the Posting
To execute the posting, simply highlight the row and click Execute.
The following system message will appear. Click Add.

Edit the Posting Before Executing
Click on the golden arrow next to the Posting No.
From here, you can modify details of the posting as required.
Click OK to save.
From the Confirmation of Recurring Postings window, execute the posting following the steps above.